Want your project to succeed? Ask yourself these questions.
october 5, 2018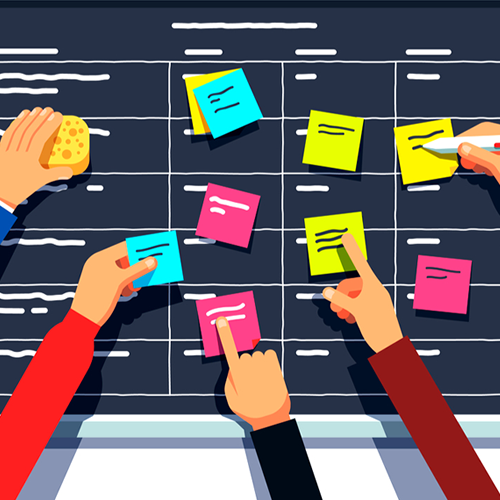 Why do some projects fail while others succeed? What went wrong? What are the key factors for achieving successful results with projects? These questions are repeatedly asked by business professionals year after year. So why then is project planning often given the least amount of effort or neglected altogether?
Too often projects fail due to unrealistic project deadlines, inadequate budgeting of resources, poor team communication, and other misaligned project scope estimates. Failure to plan properly can lead to overall dissatisfaction from the end-client or business users, as well as a final product that results in time and cost overruns. To avoid project planning pitfalls, it's important to start by asking the right questions.
Let's consider that nearly every project implementation or project management methodology includes planning as a key Critical Success Factor (CSF). Ask yourself, what should I be planning and how do I get started? To avoid the project pitfalls, it's important to start by asking the right questions.
Start Smart
Comprehensive planning sets up a project for success from the start and there are many benefits to smart planning. Planning can help ensure that business requirements and expectations are fully defined, required resources are properly assessed, stakeholders and Subject Matter Experts (SMEs) are involved, a realistic approach (scope) is developed, the effort is estimated and budgeted, and a projected timeframe based on scope is determined.
Even if you're not a decision maker you can still get the ball rolling by gathering information on, or addressing these initial planning components:
Define (document) the business (functional) requirement and any value-add anticipated.
Determine any scope parameters or special considerations which could be relevant.
Assess what resources may be required (internal to your organization and external or outside SMEs).
Engage the key staff and resources within your organization - in particular, the system end users who will be utilizing the resulting scope - and mostly importantly, the Project Sponsor.
Lastly, connect with a service provider to ensure the right questions are being asked to be able to provide at least an initial rough-order-of-magnitude (ROM) estimate and target timeline.
The Most Successful Projects Start with the Best Questions
Whether you are seeking a new implementation, upgrade of an existing system, or adding new features or functionality to address a specific business requirement, the following list can be key elements for the initial project planning.
What are the current and future system operating platforms and system versions?
Is there accurate and current documentation for any existing systems included in the project scope?
How many environments are included in the project (e.g. Development, Test, Production, etc.)?
Are there any integrations, third-party applications, or external systems which will be affected or need to be factored into the project scope?
How many end users will be involved and what are their functional roles?
Will additional licenses be required?
Are there any report or reporting requirements?
Will any training or re-training be required?
Are there existing organization or business standards for conducting functional, technical, and/or User Acceptance Testing (UAT)?
What level of project management will be needed to ensure success?
Will post-implementation support be required?
Will remote access be available for the project or will the work need to be performed onsite?
Will there be any associated business process changes relevant to or affected by the project scope?
Is there already a budget or approved and available funding for the project?
What's the process to get the project approved?
Other Planning Considerations
In taking an alternate view of project planning from a consulting services organization viewpoint, the most successful projects invariably include higher levels of direct involvement with clients to collaboratively define and plan a project. In some cases, clients have engaged the service provider to be part of the strategic support lifecycle or roadmap of one or more systems. Establishment of a long-term partnership with the right service provider and engaging or involving them early on in the planning and budgeting phases for projects can aid in ensuring that business requirements are fully understood, properly scoped, and can even assist with assessing what resources could be required from within and/or outside your organization.
Another planning consideration which can be highly effective for larger or more complex projects is conducting a formal assessment as a prequel to the larger full scope to more fully assess the requirements, scope, and propose solutions to attain more in-depth information or technical details which can be used to develop a more accurate scope, estimate, and project timeline.
Want to see how better project planning can increase the return on your investment? Contact us today!