End of Support (EoS) for Maximo 7.6.0.x is on the Horizon – Ready to Upgrade?
Jun 10, 2021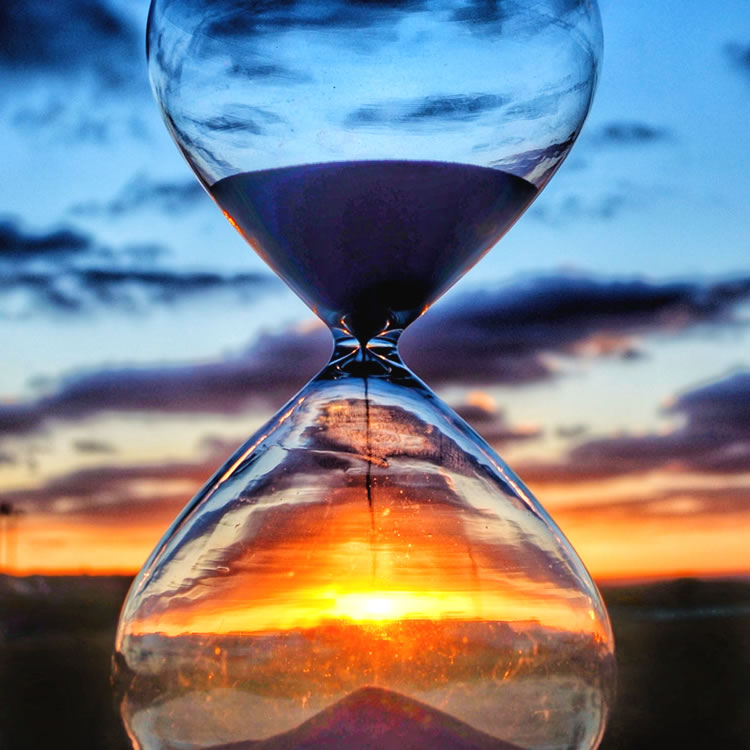 On 8 September 2020, IBM announced the end of support for all IBM Maximo Asset Management 7.6.0.x and compatible versions of products, including industry solutions and add-ons, via IBM Announcement Letter #920-136, and recommended that organizations be planning their upgrade accordingly to IBM Maximo Asset Management 7.6.1.2.
This means that effective 30 September 2021, fixes, patches, and support will no longer be provided for Maximo 7.6.0.x and any corresponding components or add-ons.
With several years of projected product version support still ahead for Maximo 7.6.1.2, now is the ideal time to be working to start your upgrade to maintain supportability, while also leveraging the new features and enhancements available in the latest Maximo release.
What End of Support (EoS) Can Mean for Your Organization
With technology rapidly evolving and advancing, choosing to not keep your Maximo EAM product up to date and maintaining supportability could also impact other ancillary applications and operating systems or integrated components, causing potential incompatibilities, instability, and creating new challenges for your organization.
Waiting too long for a future upgrade could also mean that the upgrade utilities and path may no longer be available, requiring a more costly and time-consuming upgrade – or even the need for reimplementation.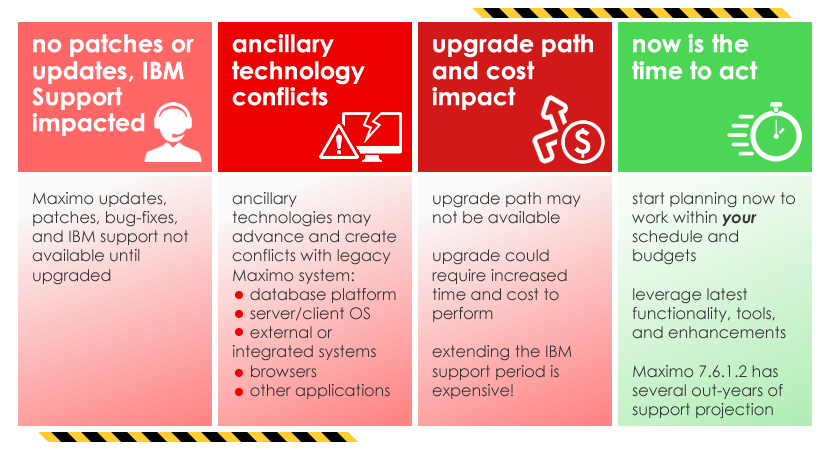 Maximo Asset Management 7.6 New Key Features
If you are still on a pre-Maximo 7.6 release and have not yet looked at how the host of new features and capabilities in Maximo Asset Management version 7.6 can help your organization achieve greater efficiency in asset management through improvements in usability, integration, installation, and business intelligence – here is an overview of functional and technical enhancements, grouped categorically.
While these features are a significantly impressive list for Maximo 7.6 in general, if you are already on an earlier Maximo 7.6.0.x release, the following are just a few of the more specific enhancements within the 7.6.1.2 feature pack version released by IBM on July 24th, 2020 that we feel are the top 6 game-changing features for user experience and productivity.
Inventory and Storeroom Improvements
The ability to create and use storeroom hierarchies, add items to multiple storerooms, setting a default reorder storeroom, and other additional details can now be specified when adding to a storeroom. Inventory Work Centers users also have new functionality for "Pick & Stage", the ability to reconcile physical counts under the "Reconcile" tab allowing for a review reconcile before executing the reconcile process as a visual indicator of proposed changes, barcode scanning using a mobile phone camera when the user is selecting bin or item, and better management of condition-enabled items by supporting setting condition enabled items.
Enhanced Drilldown Capability
The Drilldown navigation has an enhanced and more modern look and feel, providing greater access to more related data and actions. You can now drilldown to PM's, Job Plans, and Spare Parts, view details on related records, and use drag-and-drop to move assets or locations – including color coding options and built-in intelligence indicating whether a move is possible.
Attachments
Users can now attach multiple files simultaneously to records and have the ability to view URL attachments in Work Orders. When a URL is clicked, the link will open in a new browser tab.
Scripting
Scripts may now be developed and run as asynchronous jobs in the product. Previously, this level of functionality required more complex Java customizations to achieve desired functionality and can greatly enhance and streamline integration capabilities.
License Monitoring
The License Usage Monitor application in Maximo version 7.6.1.2 can be used to monitor and track license usage for additional products to help ensure that your Maximo deployment is configured and being used within your licensing allocations.
Cognos Entitlement
Maximo users now have access to Cognos v11.0.13 which is a significant enhancement from version 10 bundled with Maximo 7.6, providing additional reporting and analytic capability – including a fully web-based/self-service dashboard and interactive MapBox control to analyze geo-spatial data with an interactive drag and drop UI.
Add to the above, that 7.6.1.2 includes patches for over 20 security vulnerabilities, a large number of bug fixes for many core applications, and updated browser support for Microsoft Edge Chromium, just these alone could be key upgrade considerations for the security and usability of your Maximo system.
Upgrade Preparatory Items
Did you know that there are a number of best practices activities you can be doing now to start preparing for your upgrade to save time and money, potentially reduce scope, and increase project success factors?
Engage and confer with a consulting implementation partner prior to the project to determine scope boundaries, level of effort and project responsibilities, and projected budget and timeline planning before setting a project deadline.
Review and/or document all key business processes using Maximo to ensure they are up to date and accurate.
Review and/or update your testing procedures, test scripts, test plans, and use-case scenarios.
Review and/or update any configuration documentation for all changes from out-of-the-box.
Review and document your infrastructure and system deployment, resources, and configuration. Determine if any new/additional hardware or software will be required or desired to be included in the upgrade scope.
Review and assess as-is and to-be version compatibility for any peripherals which may also require upgrading (e.g., WebSphere/WebLogic, Operating Systems, Database versions, and/or hardware and infrastructure resource requirements).
Run the IBM Maximo data and integrity checker utilities to identify and correct any identified issues prior to starting the upgrade project.
Ensure or update non-production environment(s) with a recent copy of Maximo Production.
Review and evaluate the available upgrade documentation on new Maximo features and functionality and then conduct an impact assessment – this can be done internally within your organization, and/or could be a collaborative effort with your consulting partner.
Consider standing up a stand-alone environment of the to-be upgraded version to review and assess any new features you may want to implement as part of the upgrade project.
Other Upgrade Related Considerations...
Before you race to hit the "upgrade" button, there is one more key consideration you may want to evaluate. An upgrade can also be the perfect time to assess converting from a traditional on-premises model to a Software-as-a-Solution (SaaS) deployment, and migrating to the cloud for your long-term Maximo roadmap.
Hardware and infrastructure requirements are changing and licensing costs are on the rise, while organizational changes and connectivity demands are increasing – all of which could present greater challenges in maintaining on-premises installations in the near future.
The following are some of the key benefits to a Maximo SaaS model:
Lower Total Cost of Ownership
Lower licensing and annual support costs, and with no hardware to maintain or need to go into the office, means less to no IT maintenance required, and support services may be included*
Upgrades and Maintenance Included
Product versioning kept current with routine upgrades provided by the hosting provider – you may never need to perform your own upgrade again!
Increased Accessibility
Higher accessibility with better support for disparate and diverse working environments and the "New Normal" remote workforce
Disaster Recovery Built-In
Secure backups and disaster recovery included by the hosting provider
Highly Configurable for Your Organization
Modern Maximo SaaS deployments include ability for robust configuration options, including mobile solutions and integrations with external systems*
Bridge-to-Cloud Migration Path
Easy bridge-to-the-cloud solutions available to migrate your existing database and configurations with virtually no downtime
* variable depending on hosting provider and support plan
The cloud is waiting... Contact us to learn how migrating to a Maximo SaaS deployment could be the right solution for your organization.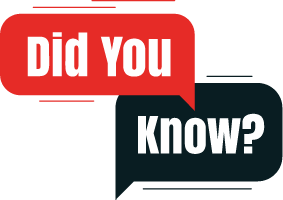 Modern Maximo upgrades can be effectively and successfully performed up to 100% remotely for significant cost savings, greater efficiency, and less demands on your staff?
No related travel expenses
Flexible consultant engagement when work is needed, eliminating any unproductive onsite time
Your staff only needed when collaborative activities are performed
Contact us Today for an Upgrade Evaluation!
Leverage Ascension Strategies decades of industry experience and track record of completing projects on time, within budget, and with consisten client satisfaction to help you understand your Maximo upgrade path and options, and develop a budgetary cost projection, upgrade scope, and realistic project timeline roadmap – allowing you to make an informed decision.
Get a FREE no-obligation quote to start planning your upgrade and/or cloud migration now!