How to Overcome Today's Top Support Challenges
A blueprint for building a successful Support Team to overcome obstacles and maximize supporting application end-client users
september 4, 2018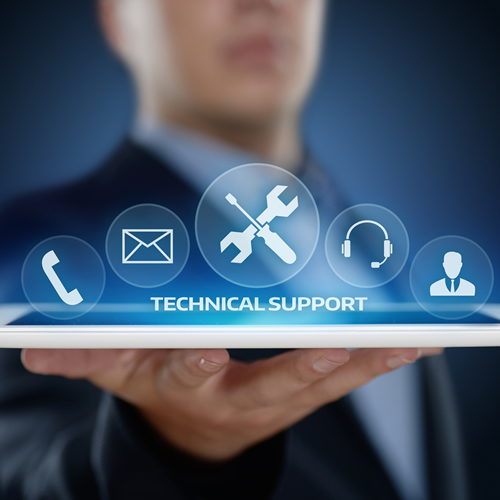 It's clear there is immense pressure faced by modern-day IT Support which directly correlates to the increasing challenges that they're up against. Nearly every area of an organization is in a position of having to do more with less - less funding, less resources, less domain experience and knowledge, less direct communication, and less collaboration - and IT is no exception. At the same time, these IT departments are taking on more day to day support and more ownership of the lifecycle of applications. Long gone are the days in most organizations where individual business areas maintain their own software licenses and technologies. The modern, centralized IT model can create operational efficiencies, but it also can lead to an environment ripe with conflict between the end-client users and the IT Support Team.
Today's hyper-focus trend on the "user experience" (or UX) simply adds to an organization's IT Support Team challenges. From the latest in application upgrades to user-based content and preferences, users now expect a higher level of engagement across the board and this extends to the support they receive. Good customer support is reactive, while great customer support is proactive, and achieved through outstanding UX. The modern expectation is that support be readily accessible, available, and individualized - and the onus is on companies to meet it. Jakob Nielsen writes, "User experience encompasses all aspects of the end-user's interaction with the company, its services, and its products." While Nielsen's article may be geared more towards call centers, the points made can be directly applied to IT Support organizations.
To help turn your IT Support Team into a business function that you and your company can be proud of - one that exceeds your customers expectation for superior support, delivers a proactive and predictable UX, and provides the agility to help you get ahead of the needs of your business - these five challenges must be overcome.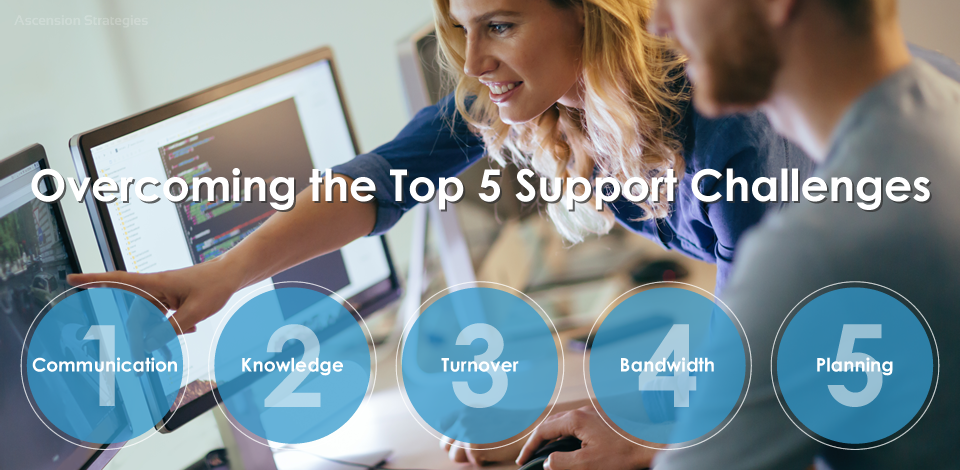 Communication
Communication plays a key role in contributing to user satisfaction and has a direct impact on the level of support users receive. It requires more than back and forth on support tickets. Users want to engage and speak with real people. They want to call support and hear a real voice on the other end who they feel understands their need, knows the system, and is invested in providing the support needed.

The modern multi-cultural business environment can be diverse and often includes highly skilled resources whose first language may not be English, which can lead to a breakdown or reluctance in communication from both ends. In addition, generational cultural differences can lead to communication gaps. Baby boomers and Generation X are more inclined to pick up the phone or interact using detailed email, while millennials prefer less direct engagement such as texting, instant messaging, or interfacing via an application.

Fostering a culture of standards and expectations across all forms of communication, along with providing any necessary training for understanding when it is appropriate to utilize the various formats, can solve these communication gaps. Regular interdepartmental meetings where lead representatives of the various business units get together to discuss problems and issues with support, provide feedback and suggestions, and (as needed) review outstanding support requests or initiatives can strengthen the system of support and contribute to higher "customer satisfaction."


Knowledge
Meeting the full range of user needs by the IT Support Team requires that they possess an appropriate level of knowledge - both specific domain knowledge of and expertise in the applications they support, along with how to provide support - and this requires training. Shift Learning artfully compiled "10 Statistics on Corporate Training and What They Mean for Your Company's Future" that outlines the impact on organizational growth that may surprise you.

Meeting knowledge requirements can also mean making an investment to ensure that standards have been developed, are routinely measured and enforced, and include current and detailed documentation of the applications being supported. Your company invests a lot in their products or services to ensure they're the best and most wanted on the market - shouldn't the same be done for your employees? Promote and foster development within your workforce just as you would a new product line. Encourage employees to seek training and education for both their personal and professional development. Often, the cost of employee development is much cheaper than the cost of turnover.


Turnover
Turnover and investing in the knowledge of your support staff go hand in hand. Having a firm understanding of turnover rates - especially if they are high - may require using better metrics. Dr. John Sullivan, a Monster Contributing Writer, presents a fresh look turnover rates in "The Ideal Turnover Rate."

Turnover in IT Support Team can contribute to lower levels of overall support performance, a lack of knowledge transfer, deviation from or not adhering to support standards, gaps in documentation or continuity of support, and ultimately end-client dissatisfaction. A recent LinkedIn analysis shows that technology positions have some of the highest turnover rates. If your company's turnover rate is high, take the time to understand why and to find a strategic solution. While improved training may increase performance and employee satisfaction, if you realize that training is not the issue, look at new recruiting and interview methods to improve the quality of the people you recruit, or even at the people making the hiring decisions.


Bandwidth
With the IT Support Team responsible for supporting a myriad of application lifecycles spanning the entire company, bandwidth is frequently one the largest and most visible issues. Bandwidth issues (or the lack of capacity) create a backlog of customer support requests that go unresolved due to team member performance, ticket volume, and/or dependencies and complexities that require additional time. Backlogs from a constant stream of support requests or help desk tickets, which often need to be juggled alongside larger project initiatives such as installations, upgrades, patches, or integrating or replacing legacy systems, can quickly impact the effectiveness of support personnel and compound bandwidth issues. Tackling that backlog with over-tasked, less-knowledgeable resources can require longer time to troubleshoot and complete support requests and contribute further backlog growth. Prioritizing support items can seem an easy answer but can mean that lower-priority items may never get completed and end-user satisfaction with the support organization and even the application head downhill at a rapid pace.


Planning
Moving from a reactive to proactive planning approach within your IT Support Team may not come naturally when most support is thought of as being reactive, with the response and action necessary resulting after a support need is requested or identified. While there is some degree of accuracy to the need coming first and the action following, there are a number of important support areas which can (and should) be planned for in advance. Proactive support includes assigning and using priorities, having clearly defined and routinely measured response times and completion for service level agreements (SLA's), measuring end-user satisfaction and the UX, and developing long-term support roadmaps for every application for which the support organization is responsible. Planning an application roadmap should always involve the people responsible for performing and supporting the lifecycle as well as the users who the application serves. An inclusive, proactive planning process will increase user satisfaction and can be instrumental to long-term success.

With a proven and capable consulting organization engaged as a partner, your company can work closely with them to plan your IT Support Team needs and overcome obstacles in order to maximize support for end-client users and operational excellence.