Working from home? Try these 9 keys to success!
april 09, 2020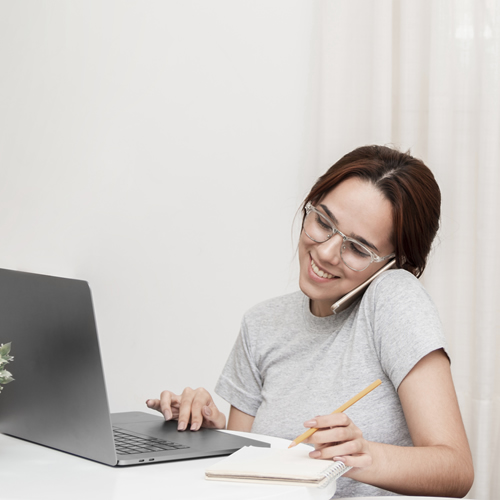 Amid the coronavirus pandemic affecting the entire world, we find ourselves having to live and work in dynamic and rapidly evolving times. This means that like many people, you've found yourself now working from home.
While the first couple of days working from home might have felt a bit like a relaxed, working vacation – where every day is casual Friday – establishing a solid routine with planning, structure, and some self-discipline can be the crucial difference in achieving a productive day, coping with your new working conditions, and sustaining some sanity across the board (for both you and your family).
At Ascension Strategies, our consultants have already been leveraging home office models to successfully provide remote consulting services to our clients and business partners for over 7 years – with an average of more than 75% of all our consulting work being conducted offsite (remotely). While there are some core factors within our business model and management team that contribute to our success, we wanted to share some keys to success when working from home:
Get off to a good start: Continue to set your alarm to hit the "office" by a dedicated time each morning. Eat a good breakfast before starting work. Shower and get dressed every day. This doesn't need to be your full power-business attire, but avoid the inclination to just throw on sweat pants and wander down the hall with bed head hair and only one eye open. There's a psychological aspect to this that when you look good you will also feel good. With no morning commute, it should be easy for you to get started on time – and maybe even getting a head start on the day! Consider even using that former morning commute time for getting in a little morning exercise, even if it's just some stair-climbing sets or quick walk around the block.
Establish a dedicated workspace: You should have a designated place to work that's clean, uncluttered, and has good lighting. If you don't have an area for your "home office", consider a spare bedroom or basement. Ideally, this space will have a door that you can close. Avoid high traffic areas, like kitchens, or working in your own bedroom so you're not cooped up in the same room day and night.
Create rules of engagement: Establish some guidelines for your family to help with noise level, interruptions, etc. Plan activities for your children to help them stay self-entertained while you're working. A simple rule of the door closed can mean "do not disturb – unless it's on fire or bleeding". Have some fun with this and make the kids a part of it. Have them create your "Mom is busy" sign, and get their input for things they can do while you're working. If both parents are working from home, establish designated "shifts" for who is "on duty" during various times so you can each get some focused work done.
Schedule breaks: Plan for periodic breaks throughout the day. Put these breaks on your Outlook calendar, or set an alarm reminder on your phone. Get up from your desk and do something different for at least a few minutes. This is a perfect opportunity for some Stretches to Do at Work Every Day to keep your muscles working. Consider these 8 Simple yet Effective Exercises You Can Do at Your Desk.
Plan meals: Figure out the day (or even week) prior what you will be having/making for lunch and dinner. Do your shopping and as much preparation as possible ahead of time to avoid having to figure something out last minute, and minimize the time to prepare the meals so you can eat on time and get to also enjoy the meals together as a family. The planning and preparation can also be a great activity to have the kids help with!
Avoid distractions: While working from home will have many more potential distractions than going into an office, avoid the more obvious distractions such as the temptation to constantly check or camp out on your social media, surfing for funny cat videos, or have a TV show on in the background – that's what breaks are for!
Avoid trying to multi-task: Few people are actually successful at multi-tasking, and it often leads only to distraction and inefficiency across all tasks. Instead, planning and prioritizing your work, and working on blocks are much more effective in checking tasks off your list (see #8, below).
Work in blocks: This productivity approach is pure gold, whether you're working in an office or at home. Block out certain times of the day when you do specific activities, respond to emails, write proposals, call clients, have team meetings, or work on a specific project. One of the advantages of working from home is that you have much more control over your time! Making a task list and prioritizing work can also help you execute during those planned work blocks. While pen and paper or sticky notes work just fine, this can also be a great time to learn using organization tools like Microsoft OneNote. If you take nothing else away from this article, at least take a minute to check out The Rocks, Pebbles, and Sand in a Jar Story for how this applies to approaching your work tasks. The video below presents the Rocks, Pebbles and Sand Story for equal applicability to your personal life.


Communicate and engage: While physical social distancing may be important to minimize exposure during COVID-19 precautions, there were already other aspects of social distancing happening that you were likely unaware of – such as relying on texting, instant messaging, or emails instead of actually picking up the phone to communicate. Direct communication and engagement via voice (or modern video calls) not only feeds the need for actual human contact, but is also more effective in many business situations. Consider this article on 6 Reasons Why A Phone Conversation Is Better Than An Email.
The above tips and actions might seem pretty basic or even common sense, but implementing even just one or two of these can help you shape a more productive and successful day – as well as achieve some good work/life balance, both now when working from home or when you return to the office.
Ascension Strategies' experienced consultants are here for you, and are more than just Maximo EAM services experts – we may be able to assist you or your company with a variety of other technology, support, or business management areas, as we all navigate these uncharted waters.
Most important of all, stay safe!